« All news
Visit of the delegation headed by the President of POSCO International Corporation
16.
05.2022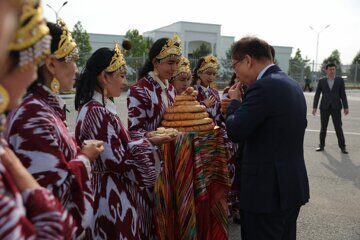 On the morning of May 11, the delegation arrived in the city of Ferghana and headed to the khokimiyat of the Ferghana region. Khakim of the region Khairullo Bozorov received guests and discussed prospects for the implementation of mutually beneficial investment projects such as wheat cultivation, production of mineral fertilizers, production of artificial fibers and vocational education in the region. The meeting also discussed the issues of the exemplary organization of the cotton-textile cluster in the territory of the Yazyavansky district and the modernization of the existing production at the POSCO International Textile enterprise.
After the meeting, the guests visited the territory where the new eco-city "Eco Shaҳar" is being built, as well as the new KOICA vocational training center.
Then the delegation arrived at the head office of the city of Fergana. A short meeting of managers was held. The guests visited the corporate museum and walked through the Ferghana factories.
After the tour, the guests visited the construction site of the training center, which is sponsored by the corporation, and got acquainted with the project implementation plan. After that, we went to the Tashlak and Kumtepa factories.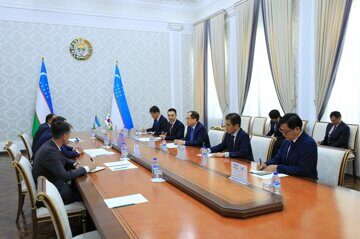 In the afternoon, the delegation went to Yazyavan district, where a meeting with the hakim of the district and a seminar with farmers took place. During the visit to Yazyavan, the territory of the future cotton gin plant was visited. Then the President of the company presented a certificate for protective masks that are produced in our company in a total of 25 thousand pieces to the regional and district khokimiyat. And also for the population of Yazyavan, POSCO International Textile was granted an eight-meter hour-long installation in the very center of the district.
At the end of the visit, the guests visited the silk factory "Yedgorlik", which is located in Margilan (the city of silk), where they saw the full production process of silk and semi-silk fabrics such as satin, adras and others.
On May 12, the guests went to Samarkand to plunge into the flavor of the eastern city and study the history of Uzbekistan.